The Glare-less series is ENDO LIGHTING's flagship downlights. The series focuses on minimizing fixture presence and beautifully illuminating architectural spaces. Immaculately finished electropolished-aluminium cone is glare-free, and exudes class.

The series is also updated with more beam angles and fixture variations than ever before. Using the same basic components across all models, the fixtures offer the same high-percision light control the series is known for. With a wide-range of fixtures to choose from, the Glare-less series offers something for spaces of all shapes and sizes.
1. Deep glare cut angle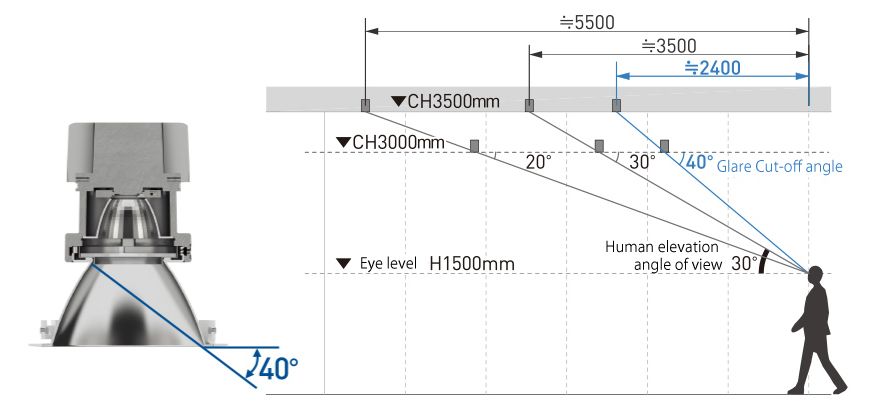 40 degree cut angle as a standard.Bigger the cut-off angle, the more the visible glare is reduced GLARE-LESS series come with a 40 degree cut-off angle.
2. Glare-less design and finish
The cone is designed to minimize fixture presence. lare-less series minimizes light reflection on the cone with precise beam control of the inner reflector. The mirror cone is finished using electropolishing, and is more scratch resistant than vapor deposition.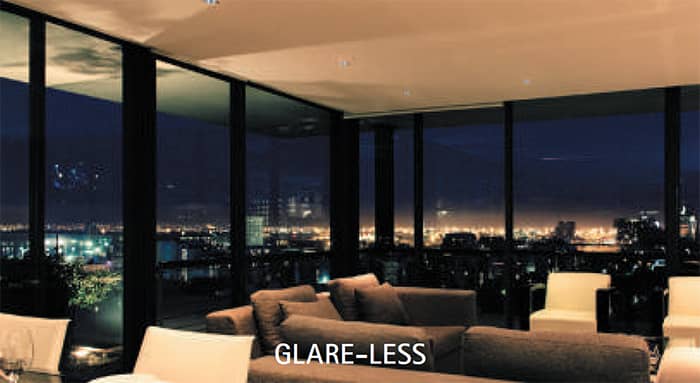 Minimized light presence in the ceiling.
Fixtures don't reflect on the window at night.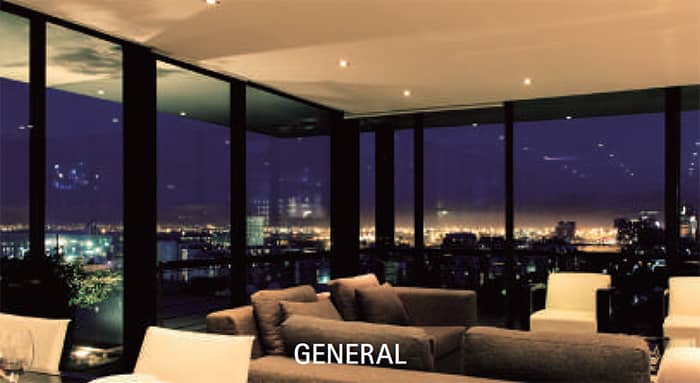 Visible lights on the ceiling creates a lively atmosphere.
Fixtures show in reflections in the window.
3. Rich line-up of lighting distribution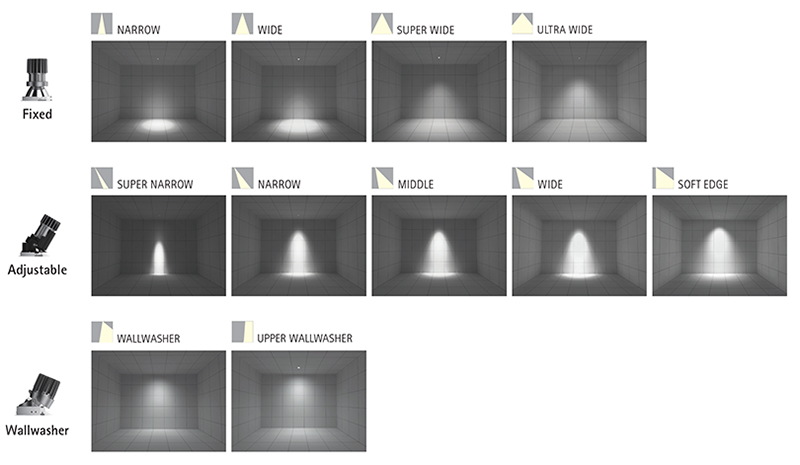 The beam angle variation has been greatly expanded, including the new 10 degrees super narrow.
The GLARE-LESS series covers Fixed, Adjustable and Wall Washer downlights, with a consistent design and appearance across the range.
4. Option accessories

In order to meet more technical lighting design demands, accessories such as honeycomb louver and diffusion lenses are available.
5. Reduced light leakage

GLARE-LESS series is designed to minimize light leakage. Adjustable has a sliding cover to prevent visibility behind ceiling.

The GLARE-LESS series has a wide range of sizes, from high-powered Φ150 for high ceilings, to Φ50 for general ceiling applications
View all Matrix
Catalogue
More details are availble here